MIR digital turbine flowmeter a disposable sensor FlowMIR is individually sealed and pre-calibrated in MIR factory, ready to use. No need for daily calibration and cleaning.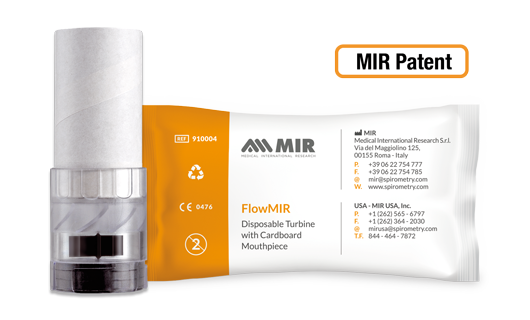 The disposable turbine with mouthpieces are compliant with ATS/ERS accredited Spirometry Guidelines and are Not affected by air pressure, humidity, temperature and viscosity.
The sensor is physically isolated from inspiration and expiration flows.
The Cardboard Mouthpiece wears after each use and requires to be changed.
Many other sensor are affected by Vapor Condensation causing a resistance that affects the measurements.
(Vapor Condensation is determined by the expiration gases against a cold fixed surface)
ATS Certification
MIR's Turbine System is ATS (American Thoracic Society) Certified
MIR spirometers accessories
We are proud to be an authorized distributor for MIR Medical International Research spirometers.
Henan Medical is a BBB Accredited Business and has received an A+ rating from Better Business Bureau.
Shop and Save for spirometers at Henan Medical and for more information
contact customer service T: 1-800-982-8890 or email: info@henanmedical.com