NDD spirometers and PFT devices are the most consistent and user-friendly lung function testing equipment that delivers accurate and consistent respiratory testing results for Early Diagnosis and for Better Lung Health.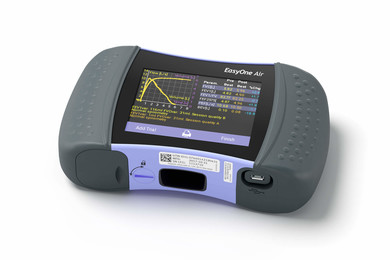 The NDD EasyOne Air Is a portable touch screen, PC spirometry machine with TrueFlow technology, this portable spirometer delivers reliable results without the need for calibration to ensure lifetime worry-free operation.
View real-time graphs, quickly enter patient data and easily navigate with the high resolution color touch screen in the EasyOne Air.
The EasyOne Air with Bluetooth and EMR Connectivity with real-time patient incentives, data exchange and EMR connectivity.
Accessories:
Flow tubes
The FlowTube protects the flow sensor from contamination
Fully passes 24 Waveform tests as required by the ATS/ERS standard
The Flow tubes avoid cross-contamination and reduce cleaning to an absolute minimum:
FDA Approval in 2017 with cyber security documentation
Importance of PFT testing in patients who have had a diagnosis of COVID-19
Spirometry machines and accessories
Portable spirometer machine
NDD EasyOne Air spirometer on Sale. Buy Now!
Customers are encouraged to contact customer service for assistance info@henanmedical.com
or call 1-305-599-0204